---
Rationality, 2013
From "Atlas Shrugged" series 2013, water color on paper, 56 x 42 cm.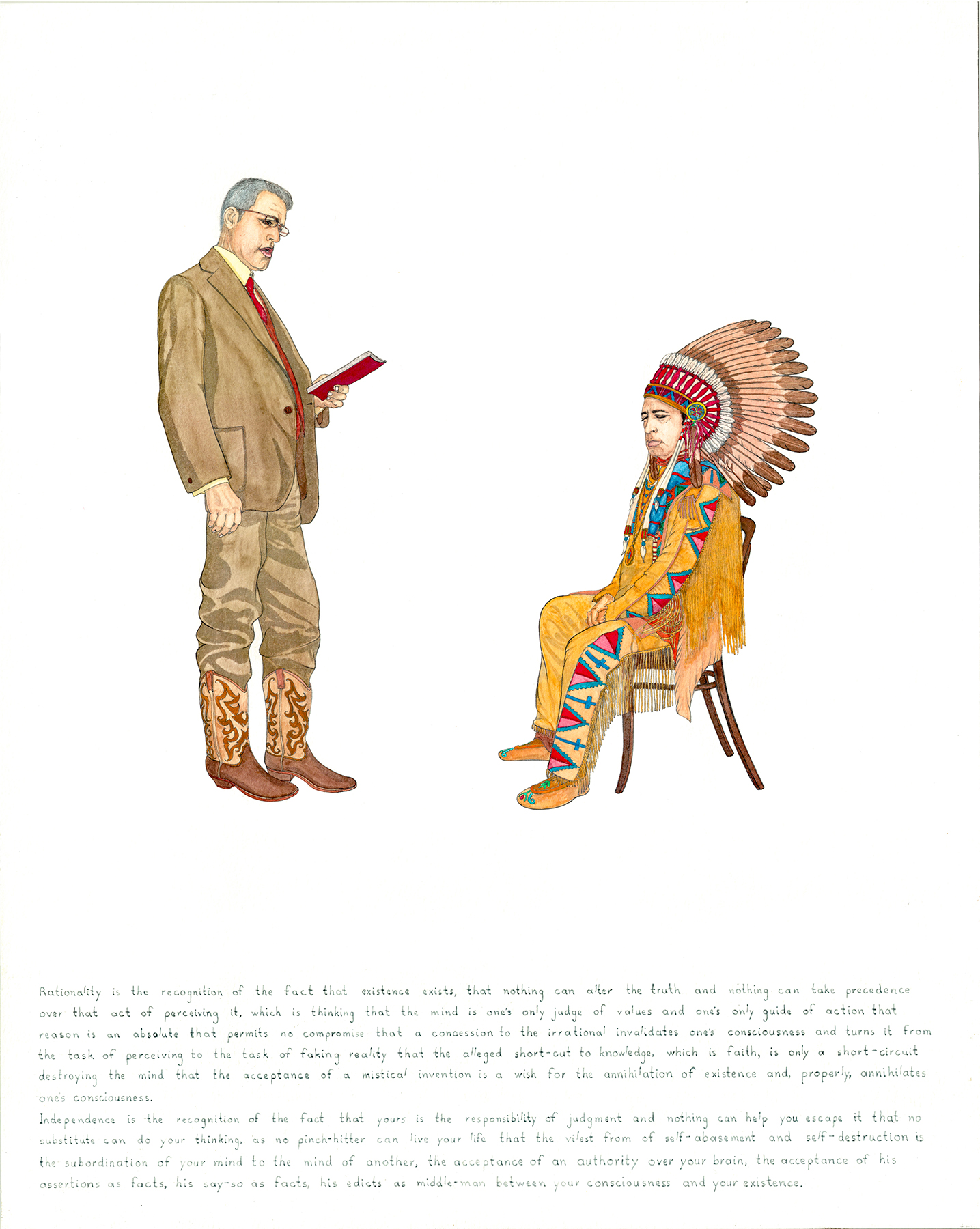 ---
Rationality, 2013
from "Atlas Shrugged" series 2013, water color on paper, 56 x 42 cm.

"Rationality
Rationality is the recognition of the fact that existence exists, that nothing can alter the truth and nothing can take precedence over that act of perceiving it, which is thinking – that the mind is one's only judge of values and one's only guide of action – that reason is an absolute that permits no compromise – that a concession to the irrational invalidates one's consciousness and turns it from the task of perceiving to the task of faking reality – that the alleged short-cut to knowledge, which is faith, is only a short-circuit destroying the mind – that the acceptance of a mystical invention is a wish for the annihilation of existence and, properly, annihilates one's consciousness. Independence is the recognition of the fact that yours is the responsibility of judgment and nothing can help you escape it – that no substitute can do your thinking, as no pinch-hitter can live your life – that the vilest form of self-abasement and self-destruction is the subordination of your mind to the mind of another, the acceptance of an authority over your brain, the acceptance of his assertions as facts, his say-so as facts, his edicts as middle-man between your consciousness and your existence."

Excerpt from the book, "Atlas Shrugged", by Ayn Rand, first published in 1957
شهرام انتخابی 尚莱姆_恩特卡比
Shahram Entekhabi is an German-Iranian- artist, curator & architect, currently living & working across Tehran, Iran - Berlin, Germany and Europe.