---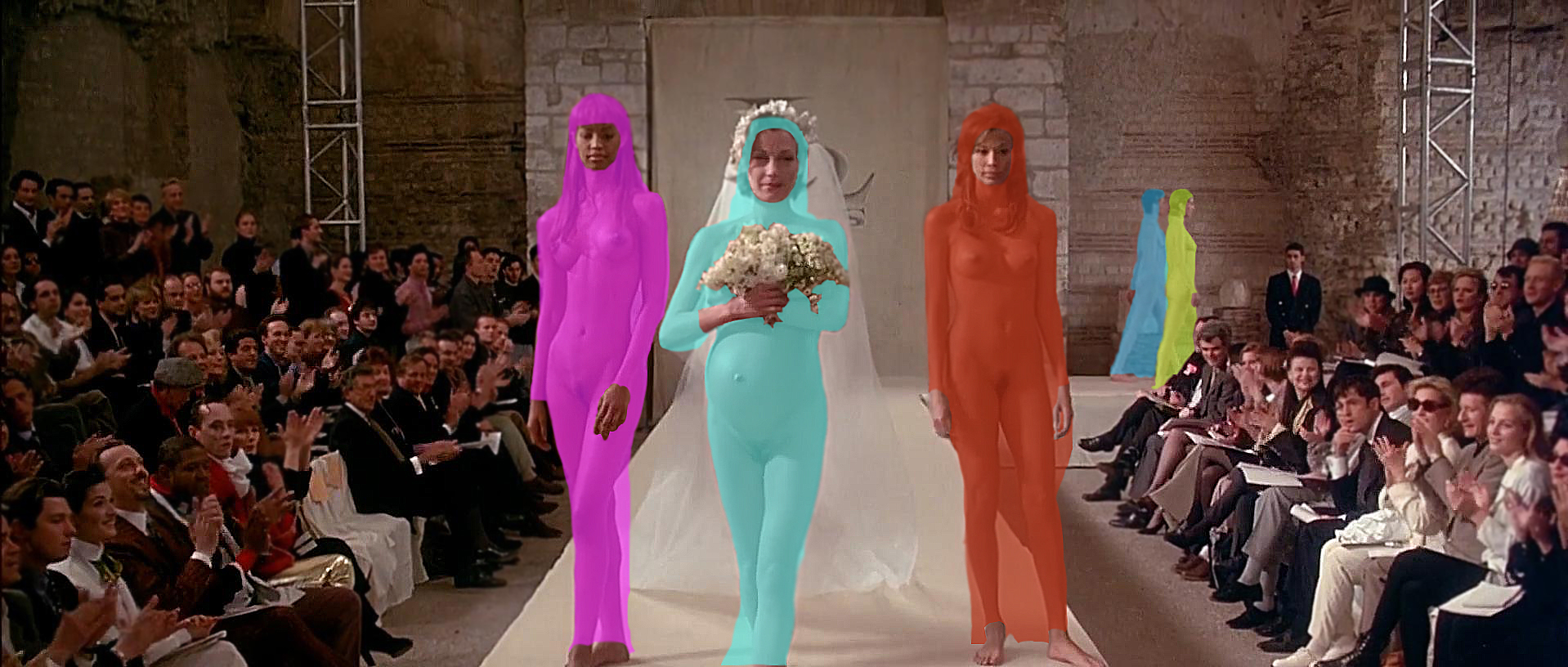 video still
---
Islamic Catwalk (Prêt-à-Porter Islamique), 2008
HD video, PAL, 00:38 min, color, sound

Entekhabi´s works in general often deal with question of seeing and being seen, with visions of one´s own self and visions of others. Within the work Islamic Catwalk as well as works like tents and sacks, he is referring to the specific female dress code for women in the artist´s home country:

... After the Islamic revolution, the requirement for religious Shiite women to wear the black chador turned into the only possible public manifestation of women in Iran. At the same time, a censorship of female imagery in books and magazines in the public libraries and universities within the country had also begun. As such pictures of uncovered female heads and parts of the body were either cut out from the printed matter or covered with paint in order to transfer them into the only valid aesthetics. After September 11, the chador became the metaphor for radical Islamism, and, in addition, the symbol for the question of releasing women in the Middle East from male oppression.
In a body of work that he began in 2001, Entekhabi started - in an ironic and humorous fashion - the act of mimicing censorship within his home country to "islamize" the Western fashion world through veiling all the female bodies and faces shown in the German edition of the magazine "Vogue", on "H+M" fashion posters and on a set of " Playboy" play cards, etc. Two cultures collide in his work: On the one hand, the series remind us of the fact that many women are exposed to these obligations. Inevitably, at the same time, we think of the "black widows" that we know from the news. On the other hand, the pictures also scrutinize the often doubtful ideals of beauty within the Western world.
Islamic Catwalk is based on a sequence of moving images from the Robert Altman master piece "Prêt-à-Porter" (1994), namely the end of the movie that shows some kind of high end fashion show, with all the female models being naked on stage. Entekhabi was taking all stills out of the sequence (i.e. 50 images per second/ HD 1080i) and covered the naked female bodies with chadors. As a result, we see a video from an absurd Islamic version of a fashion show.

Text*: Huda Smitshuijzen AbiFarès (Founding Director of the Khatt Foundation, Center for Arabic Typography.)

* Extract from the text in occasion of the exhibition From the banks of the river called HOME, Shahram Entekhabi, Centre D'Art Dominique Lang, Gare Dudelange-Ville, Luxembourg (2008)
شهرام انتخابی 尚莱姆_恩特卡比
Shahram Entekhabi is an German-Iranian- artist, curator & architect, currently living & working across Tehran, Iran - Berlin, Germany and Europe.