---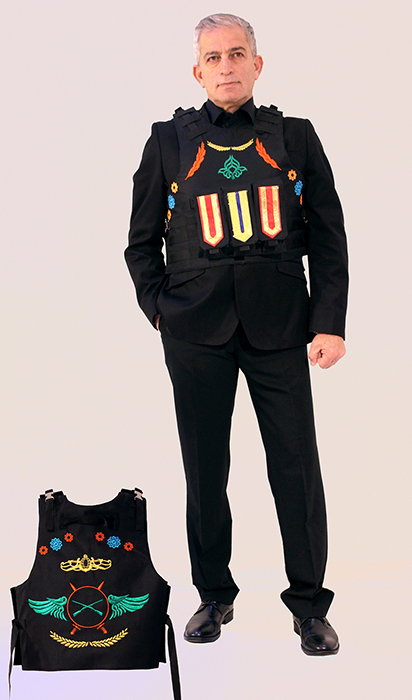 Bulletproof Boho, 2018
Embroidery on Bulletproof Vest.52 x 50 24 cm.

Bulletproof Boho For the work Bulletproof Boho, Shahram Entekhabi commissioned the making of a fake bulletproof vest from black canvas. This vest is deprived of any protective function since it has been produced without ballistic protective plates – usually made of metal or oxide ceramics. This aspect of mimicry is further hypertrophied by the fact that Bulletproof Boho is decorated with traditional Persian embroidery that is adopted for the decoration of military uniforms. Entekhabi thus asks questions about the nature of things, about the relationship between form and function, but also about depiction and the depicted. Perhaps the vest is also an expression of the sense of vulnerability in a violent present.

بوهمی ضد گلوله، هزار و سیصد و نود و هفت
برزنت گلدوزی پنجاه و دو × پنجاه × بیست و چهار سانتی‌متر شهرام انتخابی در اثر « بوهمی ضدگلوله» نوعی جلیقۀ ضدگلوله را همسان‌سازی کرده است. این جلیقه فاقد هر گونه کارایی محافظتی ست، از این لحاظ که بدون ورق‌های محافظ ـ که به طور معمول از سرامیک‌ فلزی یا اکسید است ـ ساخته شده است. این جنبۀ همسان‌سازی از این طریق شکلی مفرط به خود گرفته که جلیقه با گلدوزی سنتی ایرانی تزیین شده است، به همان شکلی که به طور معمول در ارتش کاربرد دارد. انتخابی از این طریق، دربارۀ ماهیت چیزها، رابطۀ میان شکل و کارکرد و همچنین رابطۀ میان تصویر و امرِ به تصویر کشیده‌شده به پرسشگری می‌پردازد.

"Bulletproof Boho" appeared at the following exhibition: 2018: Vicious Circle — Gallery Mahe Mehr, Tehran, Iran
---
شهرام انتخابی 尚莱姆_恩特卡比
Shahram Entekhabi is an German-Iranian- artist, curator & architect, currently living & working across Tehran, Iran - Berlin, Germany and Europe.
---