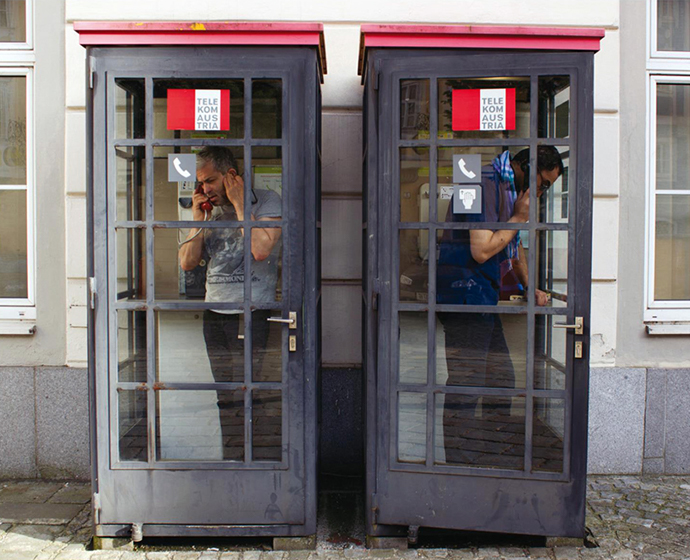 Betwixt, 2012
Shahram Entekhabi & Behrang Samadzadegan
Photograph Series


In the photograph Betwixt (2012) by Iranian artists Shahram Entekhabi and Behrang Samadzadegan, the two artists stand in adjacent tele­phone booths, each making a phone call. It is unclear to whom they are speak­ing, but the compressed space of the photograph implies that they are talking to each other. Back-to-back and each isolated within their own booths, it seems that although both parties are speaking, neither is fully listening nor understand­ing what the other is saying. This frustration in attempting to have a conversa­tion emerges through their body language: Entekhabi on the left holds his hand over his ear as if he cannot hear through the mouthpiece, his face somewhat perplexed. Samadzadegan on the right is bent over in exasperation, gripping the booth's tray, as if he has been repeating the same words continuously to no avail.
This image is a comment on the current state of Contemporary Iranian Art, il­luminated by the fact that Entekhabi is an Iranian artist based primarily in Berlin, while Samadzadegan is an Iranian artist based primarily in Tehran. Technology often connects Iranians on both sides of the Iranian border, and in this case, the telephone metaphorically joins the two artists into one space. The voice itself can travel between transnational spaces—when one calls Iran or someone in Iran calls out, the voice carries, arriving and existing in each other's spaces. Yet, the sad but humorous irony in Entekhabi and Samadzadegan's photograph is that despite communication, there is no communication between them, thus point­ing to a larger problem that exists between Iranian artists outside Iran and those inside.
Staci Gem Scheiwiller
Miyan-e Mahdoudiat-ha ya Marz-ha? , Contested Agency in Contemporary Iranian Art
Excerpt from the catalogueof the exhibition: The State In Between in Contemporary Iranian Art, SALZAMT, Linz, Austria

Behrang Samadzadegan
Behrang Samadzadegan was born in Tehran, Iran, in 1979. He received a BFA from the Tehran University of Arts, and an MFA from TTU (Tehran Tarbiat Modares University).
---
"Limbo" appeared at the following exhibitions 2012: The State In Between in Contemporary Iranian Art, curated by Julia Allerstorfer, Atelierhaus SALZAMT, Linz, Austria (catalogue)